Sports Eyewear for Spring Available in Rochester Hills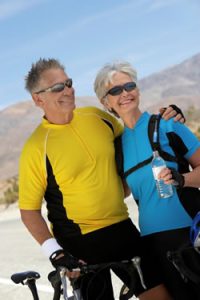 Spring is almost here, but not quite yet. In southeast Michigan, there's still snow on the ground and the temperatures outside don't feel like spring. However, it is time to start preparing for springtime activities. Spring and summer bring a host of sports, athletic activities and outdoor pursuits like running, biking and swimming. If you or your kids wear glasses or contacts, this means that this is the time to start thinking about the eyewear you need to protect your vision while indoors or outdoors.
Yes, You Need Sport Specific Eyewear
Many people believe their everyday prescription glasses or sunglasses are all they need to protect their vision while participating in athletic activities. This just isn't the case. Athletic activities such as playing sports, swimming, running or biking expose our eyes to risks that our daily eyewear cannot handle. This is as true for adults as it is for kids. Many adults don't think about protecting their eyes when they are "playing" outside. However, participation in any sort or level of athletic activity, no matter your age, exposes your eyes to potential injury. Sport specific eyewear is designed to protect your eyes from a variety of impacts and injuries.
Protect Your Children's Eyes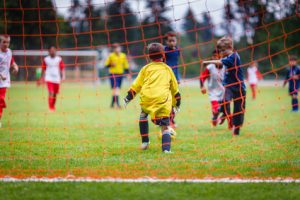 School age children between the ages of 5 and 14 are the most prone to eye injuries related to athletic activities. If your children wear glasses or contact lenses and they play sports, they need to have sport specific glasses. Don't rely on helmets and face mask as the sole protection for your kid's eyes. Objects and fingers can still go through eye masks and helmets can fall off, causing injury to the eye. Damage to eyes can cause lifelong vision problems that can have lasting impacts on your child's education and future success. While athletic eyewear may not be the most fashionable, it is incredibly important for protecting your child's eyes during sports or other athletic activities. Eye protection isn't the only benefit to your child from sports eyewear. Athletic eyewear that stays in place, is comfortable, and allows your child to see well can improve their performance and give them more confidence on and off the field.
Contact Lens Considerations
No, contact lenses do not protect your eyes from injury. In fact, when worn during athletic activities, contact lenses can actually cause more damage to the eye in the case of trauma. Contact lens wearers should consider switching out their lenses for a pair of athletic eyewear while participating in sports or outdoor activities. Athletic eyewear will provide protection from injury and also provide adequate sun and UV protection.
The Features of Good Athletic Eyewear
What do you need to look for in a quality pair of athletic eyewear? Here are some key features that all athletic eye glasses should have:
Polycarbonate, impact resistant lenses. For F8 or Recreation sports, this is a requirement.
High Impact Plastic or Nylon Frames
Soft Cushioning Around the Face
Side Guards
UV Protection
Glare Reduction
Snug Fit
Comfortable Head Strap
Good Water Seal (swim goggles)
For More Information on Sports Eyewear for Spring Available in Rochester Hills
Oakland Optometry knows the importance of protecting your eyes, no matter what activities you or your children participate in. We are experts at helping you find the right eyewear for every occasion, whether it be everyday, sports / athletic activities or fashion sunglasses. Visit Oakland Optometry in Rochester Hills to see our full line of daily and athletic eyewear for the whole family.