There is a lot of confusion among the general public about the difference between a vision screening and a comprehensive eye exam. As a matter of fact, many people think that they are the same thing. According to Dr. Mark Roy of Oakland Optometry in Rochester Hills, a vision screening and an eye exam are vastly different and provide you with very different information.
The Basics – A Vision Screening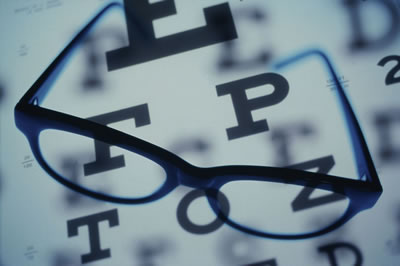 For most of us, we've had a vision screening at school, at our doctors' office, or at a community health fair. The most common tool used in a vision screening is the "Big E" chart, also known as a Snellen Chart. The general purpose of a vision screening is to evaluate your ability to see objects at distance. Some vision screenings may also include tests for eye reactiveness, muscle coordination and color blindness. Screenings can be administered by health care professionals, or individuals that are trained to administer a particular type of vision screening. As adults, we are most familiar with the vision screening when we get our driver's license. Vision screenings are a good way to determine if there is a possibility that an individual has a particular vision issue, however, they are not a diagnostic tool and are not a substitute for a comprehensive eye exam.
All the Information – An Eye Exam
A vision screening is a great way to determine if you need to visit an ophthalmologist or optometrist for a complete eye exam. Most people decide to visit their eye care professional for a comprehensive eye exam when they notice a change in their vision. An eye exam will look closely at your eyes and determine if your change in vision is the result of near or farsightedness, or if there is another condition that is causing the change in vision. A comprehensive eye exam will include a test to determine how you see at distances, but will also include tests to measure eye pressure, an examination of the structures of your eyes, and tests for peripheral vision and muscle reactiveness. A regular eye exam is the best way to monitor the health of your eyes and to determine if corrective lenses are necessary.
A vision screening cannot substitute for a visit to your optometrist for an annual comprehensive eye examination. Children or adults who "pass" a vision screening could still have an eye health or vision problem.
A comprehensive eye and vision examination includes:
Patient and family health history
Visual acuity measurement
Preliminary tests of visual function and eye health, including depth perception, color vision, peripheral (side) vision and response of the pupils to light
Assessment of refractive status to determine the presence of nearsightedness, farsightedness or astigmatism
Evaluation of eye focusing, eye teaming and eye movement abilities
Eye health examination
Additional tests as needed
A regular eye exam is the best way to confirm or rule out any eye diseases or vision problems and determine if corrective lenses are necessary.
Which is Best?
While a vision screening can give you basic information about your vision, the best option for taking care of your eyes is a comprehensive eye exam. An in-depth eye exam will tell you if you are near-sighted or far-sighted and if corrective lenses will help you see better, but they do much more. Regular eye exams can detect conditions with your eyes that can have permanent effects on your eyes or cause blindness. Some of the most common eye conditions that can be managed if caught early through a comprehensive eye exam include glaucoma and macular degeneration, cataracts, diabetic retinopathy and dry eye. These conditions require a closer look at your eyes than you can receive through a vision screening.
For More Information on "Rochester Hills Optometrist: Vision Screening vs. Eye Exams"
Oakland Optometry can provide you and your whole family the best eye care possible. Not only can we provide a complete and comprehensive eye exam but our eye care professionals in Rochester Hills provide a full range of vision care services for the adults and children in your family. And, should you need corrective lenses, we have the latest eye glass styles to fit everyone's personality. For more information on our services or to make an appointment, call Dr. Mark Roy of Oakland Optometry at 248.373.6500.