Dr. Mark Roy of Oakland Optometry in Rochester Hills Accepts VSP Insurance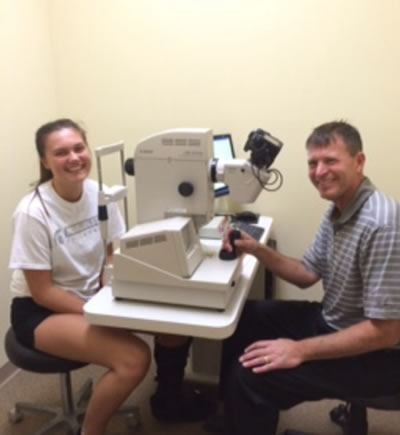 Dr. Mark J. Roy of Oakland Optometry in Rochester Hills opened his practice in his hometown over 15 years ago so that he could provide state of the art vision care for his patients and community. Many of his current patients had their first eye exams as children and are now seeing Dr. Roy as parents bringing their children in for their first eye exams.
Dr. Roy's 30 years of optical and medical experience has enabled him to become a reputable hometown optometrist in the Oakland Township, Rochester and Lake Orion communities. Not only does he provide a full range of comprehensive vision care services including glasses and contact lenses, but he specializes in the treatment of more advanced vision problems including glaucoma, cataracts, macular degeneration and eye infections. He is also passionate about providing children with comprehensive eye exams and fitting them with the right corrective lenses, including contact lenses.
For many patients of Oakland Optometry in Rochester Hills, an added bonus for selecting our office for vision services is the fact that we accept most vision insurance programs including VSP. Vision insurance can make annual visits for comprehensive eye exams more affordable and, in many cases, help cover a large portion of the cost of corrective eyewear.
The Benefits of Oakland Optometry: your neighborhood optical practice
Oakland Optometry in Rochester Hills is one of the area's largest vision providers accepting VSP vision insurance as well as many others. VSP insurance plans cover a wide variety of vision services and are a great supplement to your regular health insurance. While some medical health insurance plans may cover the cost of an annual comprehensive eye exam, they often don't provide any coverage for additional vision services, emergency eye care, or even the cost of corrective lenses.
Some of the vision benefits of the VSP insurance plan available with Dr. Mark Roy of Oakland Optometry include:
Prescription glasses that include discounts on select frames, and 40% off lenses enhancements like anti-reflective coatings, progressive lenses and light-reactive lenses
Performance eyeglass lenses
Savings on contact lenses
A one-year warranty of eyewear
Looking for the Best VSP Insurance Eye Doctor in the Rochester Hills area?
Dr. Mark Roy, your neighborhood eye doctor, and his optical team at Oakland Optometry provide compassionate vision care for the entire family. They offer a wide selection of eyewear, lenses, sports and safety frames, sunglasses and contact lenses. Whether you need a comprehensive health vision exam, or just need to have your glasses repaired, we are ready to assist you. Same day and next day appointments are available. We accept most vision insurance programs including VSP, Eyemed, NVA, Heritage Optical and Blue Cross Blue Shield. To learn more about our practice, or if we accept your vision insurance plan, call us today at (248) 373-6500.