Your Eyes After 50 and Beyond: Tips for Good Eye Health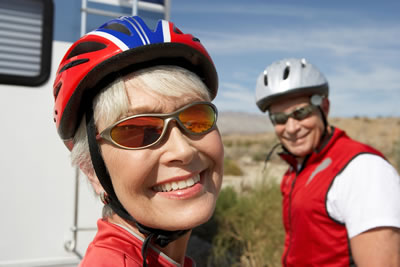 There is no doubt that as we age, our body changes significantly. We dread hitting the big 4-0 because we all know, from watching our parents, friends and coworkers that 40 means the start of a whole new set of physical changes. Our eyes are not an exception to this. As a matter of fact, many of Dr. Mark Roy's patients at Oakland Optometry in Rochester Hills insist that the first sign they are "getting old" is a substantial change in their vision. Many people who had great vision in their youth and early adult years, quickly learn that they need glasses for reading when they enter their 40s and 50s. While this change is inevitable, Dr. Mark Roy of Oakland Optometry suggests there are things you can do to protect your eyes, and slow down the effects of aging.
Protect Your Eyes: wear your sunnies with UV protection!
We mean a couple of things here. Let's start with protecting your eyes from the sun. UVA rays damage contributes significantly to changes in your vision over time. We slather our bodies with sunscreen, and we wear hats, but what about sunglasses? Starting young with sunglasses is the best time to prevent sun related eye damages, but it's never too late to start. If you aren't making a habit of wearing sunglasses, now is a great time.
Avoid damage to your eye from a foreign object
One of the quickest ways to damage your vision is by not protecting your eyes with sports or safety glasses. If you are participating in an activity where there is a chance you could get something in your eye, you need to be wearing sports and/or safety performance eye protection. This ranges from participating in athletic activities, to yard work, to using tools. Foreign objects can cause a lot of damage to your eyes and your vision. It may seem like a pain to find and wear sport and safety glasses, but it's a bigger pain to have something removed from your eye, and then deal with the lasting vision impacts. Oakland Optometry is a leading performance vision center in Rochester Hills for dispensing sports, performance and safety eyewear.
Good Health+Good Nutrition=Annual Eye Exams
Your eyes are great indicators of your body's overall health. Eye diseases like glaucoma, dry eyes, and cataracts can be indicators of other more serious health issues. With significant correlations between blood pressure and glaucoma, diet and dry eyes, and cataracts with diseases like diabetes and high cholesterol, it pays to take good care of your overall health. Scheduling an annual comprehensive eye exam with Dr. Roy can do more than test your vision -- it could save your life. An eye exam can help detect eye diseases and serve as early indicators of a number of potentially serious health conditions ranging from diabetes and high blood pressure to certain forms of cancer. Lastly, to really boost your eye health, make sure your diet has plenty of leafy greens, omega-3s, and complete grains like quinoa.
Stop Smoking
If you use tobacco products, now is a great time to quit. As we age, our circulatory system starts to become a bit less effective. You might notice this if your hands and feet seem colder than they used to. Smoking can greatly increase the aging of your circulatory system. Other impacts to your body, and especially your eyes, are also caused by decreased circulation. Glaucoma, macular degeneration, optic nerve damages and cataracts, are some examples of these, and all of these conditions can significantly impact your vision. They are also all more prevalent in individuals that have a history of smoking. To make a quick improvement in your eye and overall health, toss the tobacco.
Searching for an Eye Doctor in the Rochester Hills, Mi Area?
Dr. Mark Roy of Oakland Optometry is here to help you manage your age related vision changes. Dr. Roy specializes in annual comprehensive eye exams, eye-disease management, contact lens services and innovative lens and optical technology. We also have a great selection of eyewear, and sunwear for when it's time to add a pair to your daily routine. To schedule a vision appointment at our Rochester Hills location or to learn more about our vision services, please call Dr. Mark Roy of Oakland Optometry at (248) 373-6500.