Your Teen Wants Contacts: Should You Give in?
If you're raising a teenager, body image and self-image may be frequent topics of conversation. With so much emphasis being put on how you look, it's not a wonder that your teen with glasses may be asking for contact lenses. According to Dr. Mark Roy of Oakland Optometry in Rochester Hills, many of our adult patients wonder if contact lenses are right for their teen. If you are considering contacts for your teen, here are some things to consider.
The Basics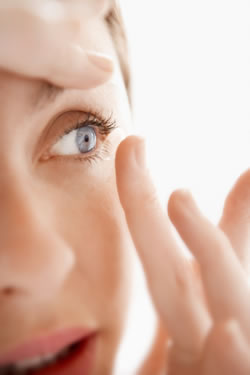 Contact lenses, like glasses, require a prescription. Fitting your teen for contacts is similar to fitting for glasses. Not only does Dr. Roy determine the prescription for their eyes, but he also measures the shape and size of the eye. This allows Dr. Roy to determine the correct vision correction and fit for their contact lenses.
Once your teen has been fit for lenses, Dr. Roy discusses the type of lenses that are best for your child. Some of the considerations are: how old your teen is, the type of correction necessary, does your teen have an astigmatism, and how active your teen is. These factors will give Dr. Roy a good idea of what kind of contact lense is best for your child.
Types of Contacts
There are many types of contact lenses available in the marketplace ranging from daily disposable, 2-week disposable, extended wear contacts, toric contacts, to spherical contacts and hard lenses.
Dr. Roy spends time with each of his patients prescribing contacts that best fit their needs and lifestyle. The demands of today's teens require versatile contact lenses. While some patients do well with soft contacts, others will feel more comfortable or get better results in perhaps a gas permeable hard contact lens.
Wearing Contacts
Contacts may take a little getting used to. However, most patients find that once they understand how to put their contact lenses in, there is little effort and relatively little discomfort with wearing contact lenses. Each contact lense patient at Oakland Optometry in Rochester Hills, MI attends a contact lense fitting class that gives specific instructions on proper care and maintenance of their contacts.
Often patients are concerned that putting contacts into their eyes will hurt. This is the biggest struggle your teen will have to overcome when transitioning from glasses to contacts. Putting in contacts should be pain-free and when fitted correctly, should be unnoticeable. One of the common questions that many patients ask is if their contacts will get stuck behind their eyes. That should not be a concern for your teen, as it is impossible for contacts to slip behind the eye.
What About Cost?
The optical team at Oakland Optometry will help you determine the cost difference between glasses and contact lenses. There are plenty of considerations that can make one or the other more cost effective for you and your teen. In some cases, like with glasses, the cost of contacts can be a yearly, one time cost. However, the cost of disposable contacts can be less expensive than annual glasses, depending on your teen's correction. Contacts can also be lost or torn, so that may add to the cost of wearing contacts. If you or your child are considering contact lenses, you should keep in mind that lost and torn contacts are a reality, so you should have a plan in place on what it takes to get a replacement lens, and quick.
What Else Should I Consider?
Contacts are not for everyone. Some people just don't like to wear contacts, and are happy with glasses. Remember that when you are deciding whether or not to fit your child with contact lenses, that they may not enjoy wearing them. If this is the case, you should be OK with keeping them in glasses. However, if your teen plays sports, it may be a better option for them to consider wearing contact lenses over glasses, especially if they need to wear a face mask or other type of eye protection. Contact lenses can help your child enjoy added freedom with certain activities and sports. In some cases, contacts can help boost self esteem if your teenager feels self conscious about wearing glasses.
Contact lenses are a big decision to make for you and your teen. Before you decide to put your teen in contacts, make sure you schedule a visit with Dr. Roy from Oakland Optometry in Rochester Hills, MI to ensure that you are making the best choice for your child.
For More Information on Contacts for Your Teen Near Rochester Hills, Michigan
To schedule an appointment or to learn more about contact lenses for your teen, call us today at (248) 373-6500. or visit us online at eyeexamsrochesterhills.com.