Save Your Sight in the Snow – Winter Eye Protection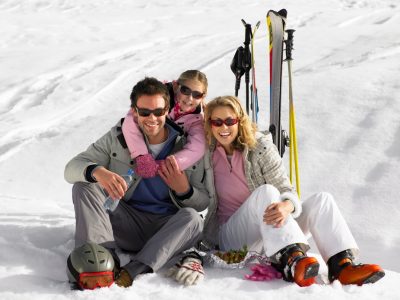 Most of us are great about wearing sunglasses in the summer. However, when the temperatures drop, and we start wearing sweaters instead of shorts, we often forget to protect our eyes. Here's some helpful information about eye protection and why it's so important to wear sunglasses in the winter.
Why Do I Need to wear Sunglasses in the Winter?
It may feel counter-intuitive to wear sunglasses or goggles when you're outside playing in the snow, skiing or snowmobiling, especially if it isn't sunny. Sun, even if there isn't much of it, can reflect UV rays off of the snow, causing sun burns to your skin and your eyes. This condition, called photokeratitis or snow blindness, is common in the winter. Especially if you're at a high elevation, the sun's rays can be amplified in snow conditions, increasing your chance for damaging your eyes. Good sunglasses and protective eye wear can protect your eyes from these harsh conditions. Not only can sunglasses and sports eyewear protect you from the sun's harmful UV rays, but it is great at protecting your eyes from physical injury as well.
What to Look for in Eyewear
Eyewear for winter sports ranges from your standard sunglasses to goggles. Many patients prefer to use sunglasses for all activities, but goggles for most winter activities, including skiing and snowmobiling, are preferred. Goggles should be made of impact resistant polycarbonate lenses, to protect your eyes from debris and sharp objects. Polycarbonate lenses are also ideal because they do not fog as easily as plastic or glass, giving you clear vision as you go from inside to outside. Your goggles and sunglasses should also have 100% UV protection and polarized lenses. UV protection will keep your eyes shielded from the sun's damaging rays, while polarization cuts down on the glare from snow, helping you to see better. When participating in winter activities, many people choose tinted lenses. Grey and brown tinted lenses give you shade from the sun, rose-tinted lenses give more contrast in overcast conditions and yellow lenses improve vision in low light.
How Do these Work with My Prescription?
Just because you wear glasses, doesn't mean you can't enjoy fun winter activities and protect your eyes. Many of today's goggles are made to allow prescriptions lenses to be worn with your goggles. There are also goggles that come with prescription lenses, or snap in lenses. Talk with the optical team at Oakland Optometry for more information.
Maui Jim Sunwear
Dr. Mark Roy of Oakland Optometry in Rochester Hills prefers Maui Jim sunwear for his patients. This brand of eyewear was developed in Hawaii, where sun can be a big problem for eyes. Since too much sun reflected off of the snow can lead to conditions like photo-keratitis or "snow blindness," it's important to buy quality eye protection for your winter activities. All Maui Jim eyewear comes with 100% UV blocking and polarized lenses to cut down on glare.
For Winter Eyewear Be Sure To Visit Oakland Optometry in Rochester Hills!
If you are getting ready for a winter outdoor adventure and need new eyewear to protect your eyes from the snow, Dr. Mark Roy and his optical team at Oakland Optometry are ready to help. And if you haven't had a routine eye exam, now is the perfect time to check your eye health and get those great new sunglasses to protect your eyes. Dr. Roy provides comprehensive eye exams, eye disease management, contact lens services and awesome eyewear and lenses. For more information, call Oakland Optometry at 248.373.6500.